You've decided that you want a new school website, but like so many people working in education, you feel like there just isn't enough time in the day for everything. Don't let time be a barrier to making online improvements.
Juniper Education are the experts when it comes to education and have been creating market leading school websites for over 40 years. With more than 7,500 schools and 500 trusts in our website portfolio, we are confident that we can help you shine online, and in a shorter timeframe than you might think.
We can offer a complete bespoke solution for your school website needs, but understand that sometimes, time is of the essence. With school purse strings tightened more than ever, our Template and Essential website designs can be a cost effective way to give your time conscious school a brand new look online.
Below, we've outlined our simple yet effective design offering that ticks all the right boxes and can help put your school website in the spotlight:
Essential Websites for Schools
When budgets and timescales are tight, our essential websites provide a great alternative to our bespoke offering with packages starting from as little as £1750.00.
As standard, our essential websites consist of 4 rows featuring your choice of stunning image-led slideshows, latest news, events calendar, social media feed and/or house points. These will help you to showcase the amazing work you are doing at your school.
Our essential designs are built on the same Content Management System (CMS) as our bespoke websites. The options ensure that you have a wide range of choice within a professionally designed and responsive framework.
For a great user experience, the navigation offers drop-down sub-menus. In addition, your site will include accessibility settings, search facilities and an editable footer to highlight your accreditation logos and accolades.
The best part is, it can be built and made live in as little as 2 weeks.
Here's some examples of Essential school websites we've created for some of our primary school customers: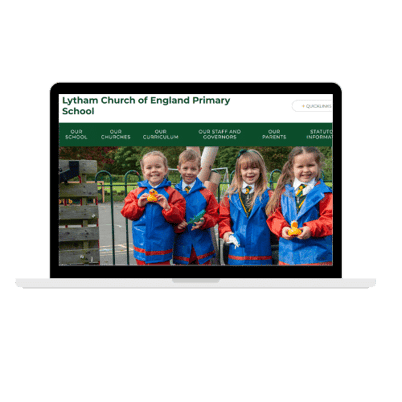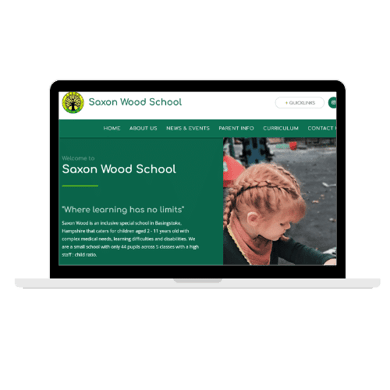 Templates
Choose from a range of pre-determined templates for your new school website, and our design team will do the rest, we'll use your existing school logo and brand colours to create a beautiful website that highlights your school's best features, whilst providing quick and easy access to all the information your users need.
Check out some of our Templated school website designs we have created for schools just like yours:
Content
To get you started on your new website journey we'll sort your website content for you. We offer a full content transfer which will save you time re-populating new content on your website.
We can of course help create fresh content for you, but updating and adding new content is quick and easy with our CMS.
To find out more about our full content transfer service, get in touch with the team and quote #FREECONTENT to take advantage of our amazing offer!
Expert Design
We pride ourselves on being market leaders when it comes to school websites, which is why we can guarantee you a great quality and professional website that showcases your school online.
Our dedicated team understand that in today's fast paced world, having a mobile friendly website is more than important – it's necessary. Our website designs are always created to be 'mobile first' so that you can bring the important information to your online users quickly from the palm of their hand.
Ongoing Support
We offer our customers an end-to-end solution with unlimited support. Our software platform is robust and secure, but should you need our technical team, they are on hand to offer guidance and advice, whenever you need it.