The Customer
The Complete Education Solution (TCES) provides local authority funded day-school education for pupils aged 7-19 in several locations across London and the South East.
Founded in 1999, they work with pupils whose social, emotional and mental health needs or Autism Spectrum Condition has made it difficult for them to achieve success in a mainstream school, pupil referral unit or other alternative provision.
In over twenty years of operation, they have never permanently excluded a single pupil.
TCES was looking for an educational website provider to develop their brand and design an innovative new school website to help reflect their position as one of the UK's leading providers of special education.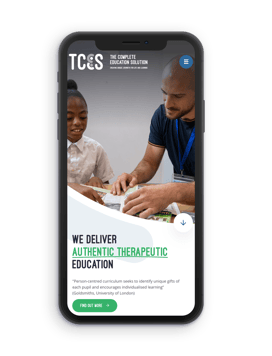 "Our website was incredibly out of date and our brand hadn't changed much at all since our start in 1999. We desperately needed a facelift and a better online presence to share with our audience of parents, local authorities and educational professionals."
- Owen Brice, Senior Marketing & Communications Officer at TCES
The Brief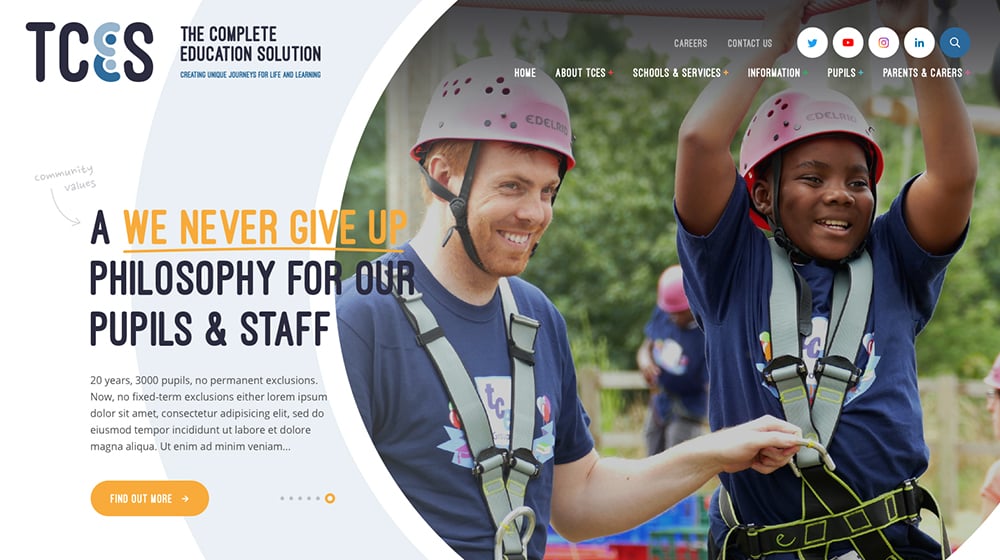 TCES required a rebrand and website that would reflect their position in the sector, showcase their identity, appeal to different stakeholders and effectively communicate their key messages.
Their existing online presence was no longer able to showcase the breadth of their offering or the individuality of their organisation and their website had become outdated, difficult to edit and too content heavy.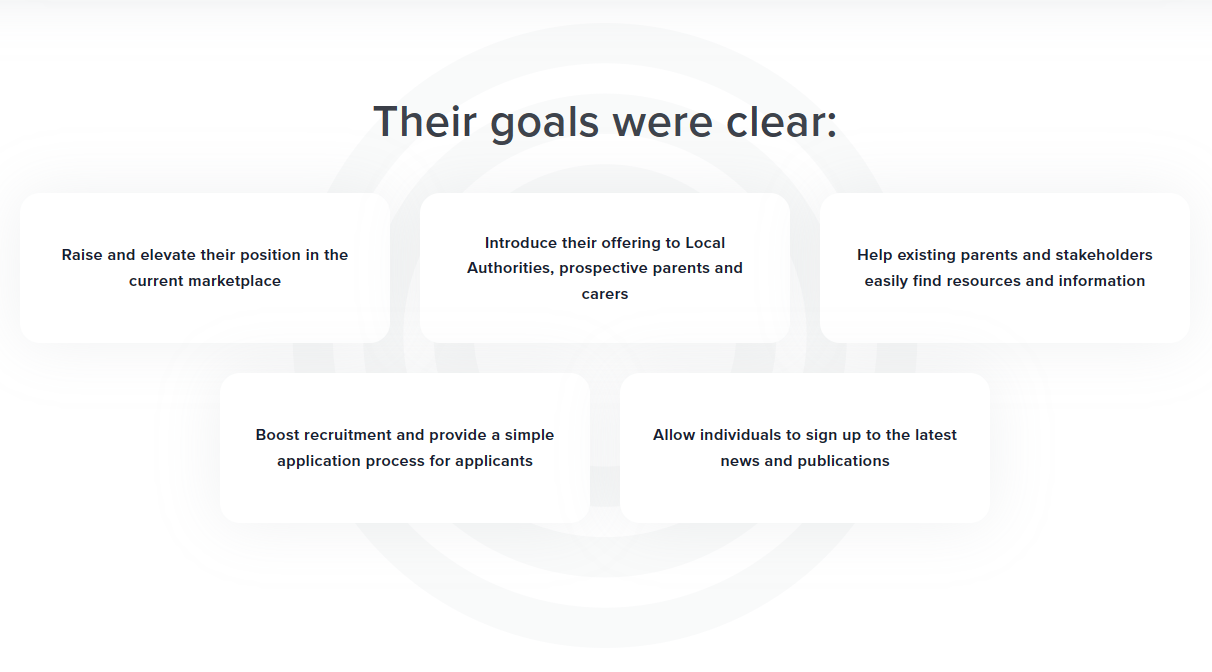 "We chose e4education because the content management system was really good and the capacity and willingness to fulfil the project was clear to see. They also had the capacity to take on additional elements such as a staff intranet and videography shoots. We had a lot of questions during the tender process and quite an extensive briefing document, but the team at e4education answered our questions every time!"
- Owen Brice, Senior Marketing & Communications Officer at TCES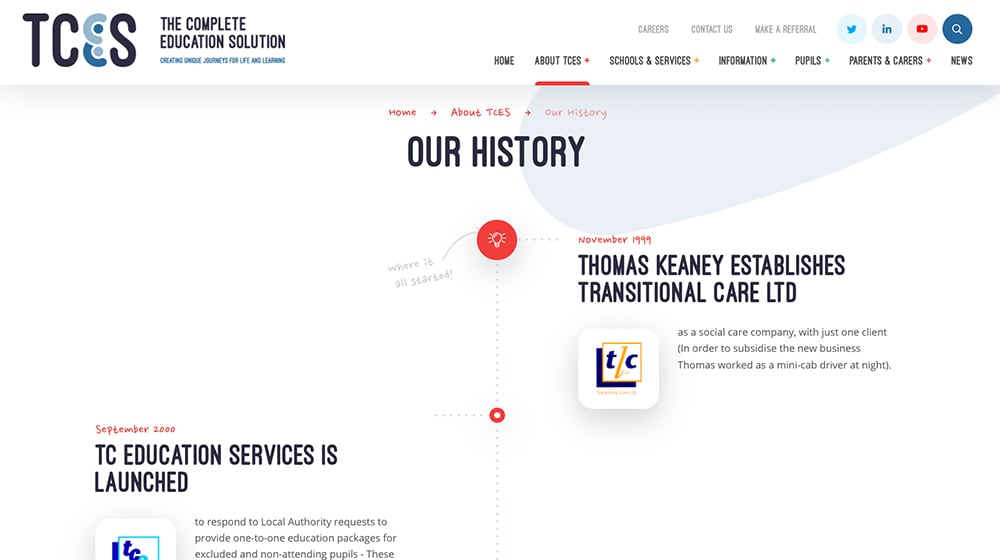 The Process
After an initial design consultation where we explored the functionality they required, design preferences and branding ideas, our team put together initial concepts. With feedback and collaboration from the customer, the concepts evolved into a simple, colourful visual representation that TCES felt was accurate and modern.
The logo shape, playing on the 'E' of 'TCES', was recoloured for each service, providing a cohesive look and feel whilst still offering each school their own identity.
Stakeholder research had also highlighted that TCES had lost its identity and meaning. As part of the rebrand, we worked to move them from their original meaning of "Transitional Care Education Service" to something much more memorable and powerful - 'The Complete Education Solution'.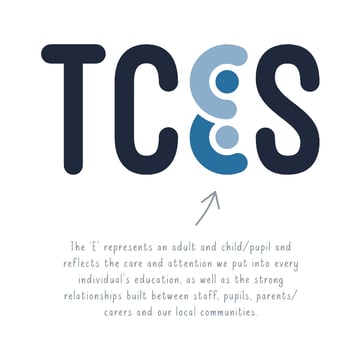 "We didn't want to change the letters TCES and this new idea just fit our brand really well. It works because we will find a solution for every child, no matter what."
- Owen Brice, Senior Marketing & Communications Officer at TCES

The Solution
The project included a new website and a full rebrand. This was complemented by brand guidelines, business cards, letterheads, compliment slips and PowerPoint templates, providing them with all the collateral required to get started.
The team at TCES were kept up to date with progress of the project through weekly updates from their Project Coordinator.
"The whole process was really smooth. Our project co-ordinator set up weekly video calls with us to go through the next steps. It was great!"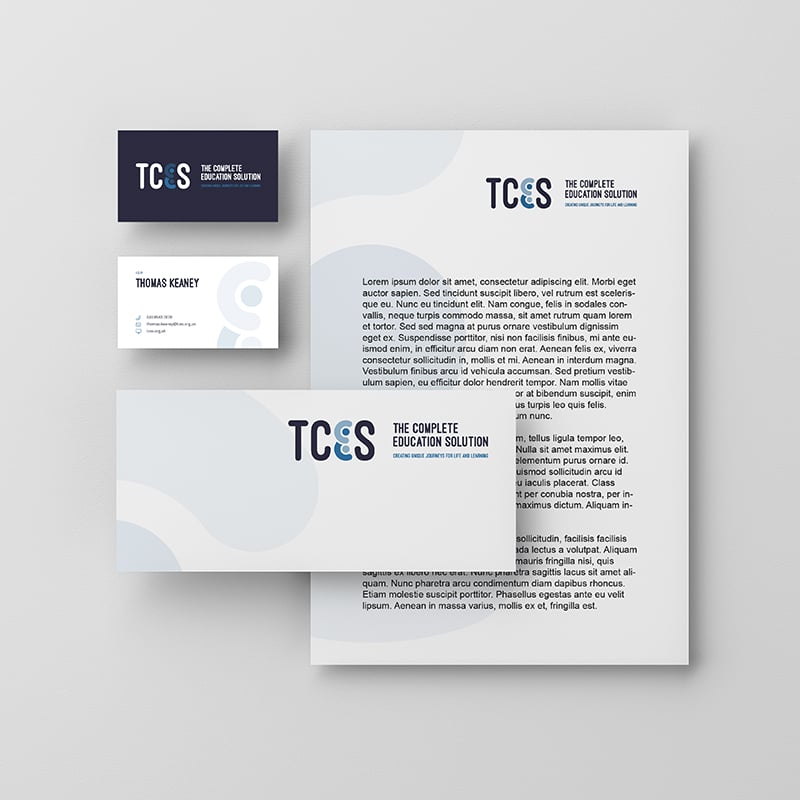 Once the rebrand was completed, our team got to work on the bespoke website design. It features elements such as:
Mixed news and social feeds
Dedicated careers page
A digital application form for recruitment
Popups
Tiled sub-navigation grids
An interactive map
History timeline
For an optimum user experience, the sitemap has been streamlined, each service has its own dedicated page, and each top-level navigation item has a different coloured dropdown menu matching the new colours found throughout the brand.
Key quick links are accessible from the top of every page of the website along with social media icons and a search function. Little handwritten notes and animation transitions throughout add an extra layer of user interaction and personality.
"We especially love the homepage counter. It goes up with the others but then comes back down to zero, with a little note that says 'no this isn't broken' to visually depict that we've never excluded a child. Our CEO loved that!"
- Owen Brice, Senior Marketing & Communications Officer at TCES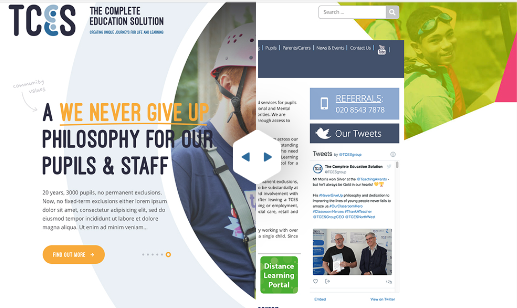 The Outcome
The new logo and rename has allowed TCES to reidentify with its audience and has provided a fresh look for an established brand. They have already been able to adapt the branding to include a new service and we look forward to seeing this develop further as they grow and expand.
"We're growing in size and each time we open a new service, we already have the logo sorted. It's such an expansive brand with a suite of rainbow colours that fit in perfectly! The logo works really well on our uniform as well – you can see our students a mile off!"
- The Marketing Team at TCES
The new website is visually appealing and engaging, sharing news, events and social updates in an easy-to-use format. The intuitive content management system has transformed the editing and recruitment process for TCES, future proofing their requirements whilst having a positive effect on the day-to-day running of the organisation.
"Recruitment and hiring can also now be done through the website, which is massive; the CMS is fantastic and so easy to use. I feel like anyone in TCES could be given a page to update and they could do it!"
All of the feedback that TCES has received has been extremely positive and the finished result is a stunning cohesive online presence that is truly unique to the customer.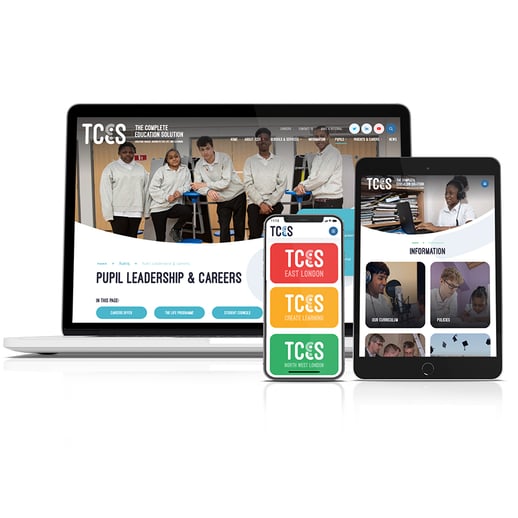 "The new website takes us firmly into the 21st century. I love the look and feel of it, which for many will be such a positive first impression of TCES."
- Thomas Keaney, CEO and Founder of TCES