Sisra
Observe
Software designed to enhance classroom observation and professional development processes for schools. Available as part of our Workforce Development solutions.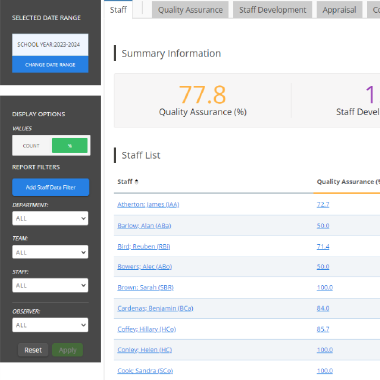 The Story of Sisra Observe
Sisra Ltd, now part of Juniper Education, stands as a market-leading force in the realm of educational solutions, committed to empowering schools and educators with innovative tools. At the heart of their offerings lies Sisra Observe, an advanced software designed to improve classroom observation and professional development processes. With a deep understanding of the evolving educational landscape, Sisra Ltd. has harnessed over two decades of experience to create solutions that streamline assessment, enhance learning outcomes, and facilitate efficient management.
Main Features and Benefits of Sisra Observe

Streamlined classroom observation
Efficiently conduct and manage classroom observations with user-friendly software, enhancing the assessment of teaching practices.

Professional Development insights
Gain valuable insights into educators' strengths and areas for growth, facilitating targeted professional development plans.

Customisable frameworks
Adapt observation frameworks to match specific school goals and assessment criteria, ensuring relevance and alignment.

Decisions based on data
Leverage comprehensive analytics to inform data-driven decisions for classroom and teaching improvements.

Enhanced collaboration
Promote collaboration among educators through centralised feedback sharing, instilling a continuous improvement and learning culture.
Joining Juniper
In November 2020, Juniper Education successfully acquired Sisra Limited, creators of the system Sisra Observe. Sisra Ltd, at the time of acquisition, had equipped over 1,650 secondary schools, academies, and trusts with advanced data analytics tools for evaluating high-stakes exam performance and staff development management.

Established in 2008, the Sisra Ltd. team and their associated brands and products have played a pivotal role in positioning Juniper Education as industry frontrunners in education, contributing a wealth of knowledge and expertise to the company.
Now part of Juniper Educations suite of Staff Development Solutions for schools & MATs
Sisra Observe makes managing your school's professional development plan easier than ever before. Trusted by over 380 schools, it's an all-in-one, web-based platform that's easy to use for teaching staff, support staff and senior leaders alike. Sisra Observe now forms out Workforce Development Solution to bring a streamlined approach to managing your team of teachers and staff.