Sonar
Tracker
Now part of our Progress and Outcomes solutions for primary schools, Sonar Tracker brings together the experience of our legacy brands to create the ultimate pupil progress tracking and reporting platform.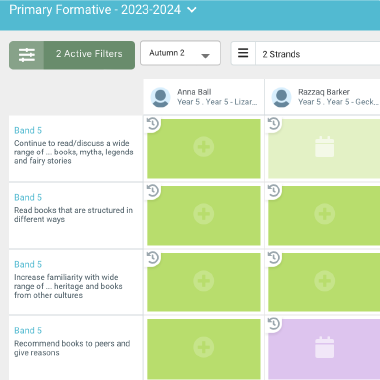 The Story of Sonar Tracker
Sonar Tracker is the pupil progress and assessment platform brought to you by Juniper Education and developed by the expert teams behind Classroom Monitor, OTrack, Pupil Asset and Target Tracker.

It has the straightforward insightful reports of OTrack, the pupil, parent, and key stakeholder engagement capabilities of Classroom Monitor, the pupil tracking software from Pupil Asset, and the wealth of educational expertise from the whole local authority behind Target Tracker. All combined to create one new, powerful platform that utilises over 60 years of education experience so schools can base their decisions on insights and intelligence that educators can rely on.
Main Features and Benefits of Sonar Tracker

Every pupil counts
Sonar Tracker helps teachers to see beneath the surface, raising and answering the right questions when it counts to help every child reach their full potential.
Assured insights for informed choices
Using Sonar Tracker's powerful analysis, get clear insights, not just data. It eases work, saves time, and suits any assessment style. Also, it's online, accessible from anywhere, and super easy to use!

Benchmark pupil assessment
Compare your pupil attainment with other schools nationally and those in your local authority to ensure your school is on track.

Intuitive design
Sonar Tracker is intuitive and easy for everyone to use, but we've got you covered if you need any guidance or support.

Your preferred assessment and curriculum style
Pick what suits you – Sonar Tracker is good to go out of the box, or we can set it up for your approach in minutes. You can even pair it up with Sonar Curriculum for a seamless and complete assessment and curriculum solution.
Now part of Juniper Educations suite of Progress and Outcomes primary solutions for schools & MATs
Sonar Tracker is now integral to our Progress and Outcomes Solutions for schools and MATs. Teachers are always working on improving learning outcomes, and having the right tools is crucial. That's why we created Sonar Tracker, a pupil assessment platform that grows with your teaching strategies, giving primary schools the support they need.