Sonar
Curriculum
Sonar Curriculum is an online, comprehensive solution for curriculum design. Previously known as Concentric Curriculum, which joined Juniper in 2020. This now forms part of our Progress & Outcomes primary solution.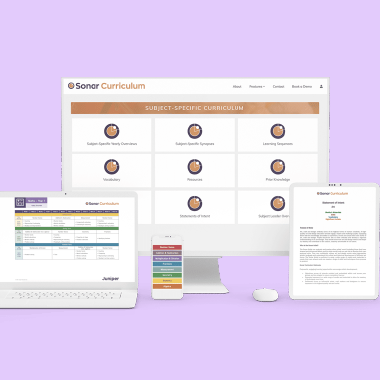 The Story of Sonar Curriculum
Sonar Curriculum, a brand under Juniper Education, emerged after the acquisition of Concentric Curriculum in 2020. This innovative solution was created to integrate the wealth of knowledge and expertise brought across from Concentric Curriculum with the long-standing experience of the Juniper Education Team.

Sonar Curriculum is an advanced educational resource that gives teachers and schools a comprehensive suite of tools designed to enhance curriculum planning, delivery, and assessment. By utilising the latest technology and drawing upon the collective insights of education experts, Sonar Curriculum offers a dynamic platform for schools to develop and implement effective curricula.
Main Features and Benefits of Sonar Curriculum
A new way to design and deliver
Sonar Curriculum offers clarity on curriculum intent and flexibility in implementation – helping you know that your curriculum design is robust and that the teaching and learning experiences will deliver engaging content to the pupils.
  
Be Ofsted ready
Be ready for Ofsted's questions on curriculum intent and implementation with sequential building blocks to help children find a passion for subjects while allowing teacher creativity to thrive.

A bespoke solution
Every primary school is unique; Sonar Curriculum enables you to build the right curriculum for your teachers, leaders, and pupils.

Reducing workloads
Help teachers reduce their workload with thousands of online resources, providing a wide selection of high-quality materials that complement specific themes and areas.

No child left behind
Sequential building blocks that take every child upwards across every subject to improve learning outcomes.
Joining Juniper
Sonar Curriculum formed an integral part of the broader Sonar Suite of solutions, encompassing Sonar Awards and Sonar Tracker, to provide schools and MATs with a comprehensive platform for curriculum management, assessment, and recognition in both primary and secondary education.
Now part of Juniper Educations suite of Progress and Outcomes primary solutions for schools & MATs
Sonar Curriculum has become an essential part of the Progress and Outcomes solutions for primary schools we have developed today. This new solution is the complete answer for primary schools and pupils because it helps track progress, improve results, and create a more engaging learning experience.
Find out how we can support your
institution
Our solutions are designed to help all types of schools to gain complete control and visibility and work more efficiently.
Big-impact solutions without the workload
Raise standards and improve learning outcomes
Make evidence-based decisions with confidence