Sisra
Analytics
Simplify data management across Key Stages 3, 4 and 5, and generate intuitive, easy-to-read reports in just a few clicks. Available as part of our secondary Progress & Outcomes solution.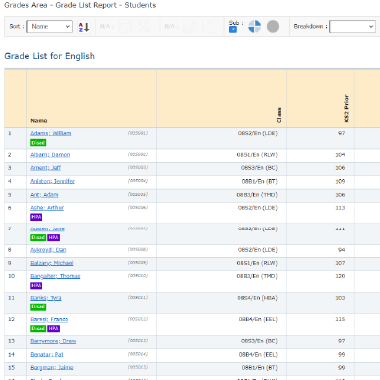 The Story of Sisra Analytics
Sisra Analytics traces its origins back to a vision conceived by founder and Managing Director of Sisra Ltd, Terry Graham, who recognised the growing need for advanced data analysis solutions in the education sector. The company's journey began with a small team of data enthusiasts, educators, and technologists who shared a passion for improving educational outcomes through data-driven insights.

Drawing inspiration from their collective expertise, Sisra Analytics was established with the aim of providing schools and educational institutions with innovative tools to harness the power of data. Over the years, the company evolved into a trusted leader in educational analytics, empowering educators to make informed decisions, optimise pupil performance, and drive institutional growth, before being acquired by Juniper Education.
Main Features and Benefits of Sisra Analytics
Analysis made simple
Make time-consuming data analysis a thing of the past with the most flexible data solution for schools. Bring together pupil progress, performance and pastoral data across Key Stages 3, 4 & 5.
Comprehensive data insights
Offering a comprehensive platform that aggregates and analyses a wide range of educational data, including pupil performance, assessment results, attendance records, and more. This enables teachers and administrators to gain a holistic view of their school's performance and identify trends and patterns that might otherwise go unnoticed.
Personalised pupil support
Personalised insights into individual pupil attainment levels. By leveraging data analytics, teachers can identify struggling pupils early on, understand their specific needs, and tailor interventions to provide targeted support.
Data-driven decision making
Schools can make data-driven decisions at every level, from classroom instruction to strategic planning. Administrators can use the platform to assess the impact of policy changes, allocate resources more efficiently, and align their efforts with broader educational goals, ultimately leading to better learning outcomes and growth.
Bespoke grading
The system is fully flexible to meet the needs of schools so they can carry on with the method of their choice, whether it be Mastery, 9-1, percentages, subgrades, or something bespoke.
Joining Juniper
On November 23, 2020, Juniper Education announced its acquisition of Sisra Limited. This move brought the company's advanced data analytics tools, including Sisra Analytics, into Juniper's fold, benefiting over 1,650 secondary schools, academies, and trusts. These tools were designed to assess high-stakes exam performance and performance management. The integration of Sisra Ltd aligned with Juniper's ongoing investment initiative to create a comprehensive offering of subscription-based software and services. This initiative aimed to provide robust support to schools and multi-academy trusts in their educational delivery endeavours.
Now part of Juniper Educations suite of primary Progress and Outcomes solutions for schools & MATs
The addition of Sisra Analytics to Juniper Education meant the company could better support secondary schools through data analytics at Key Stages 3, 4 and 5, which now forms part of our Progress and Outcomes solutions. This has enabled schools to benchmark exam results against key education performance measures, such as Attainment 8, Progress 8 and EBacc Standard, and make comparisons with other schools and the national picture.
Find out how we can support your
institution
Our solutions are designed to help all types of schools to gain complete control and visibility and work more efficiently.
Big-impact solutions without the workload
Raise standards and improve learning outcomes
Make evidence-based decisions with confidence