Pupil
Asset
The Pupil Asset Management Information System (MIS) and progress tracking software reduce admin tasks, teaching hours, and school expenditures. Rebranded in 2021 as Juniper Horizons MIS.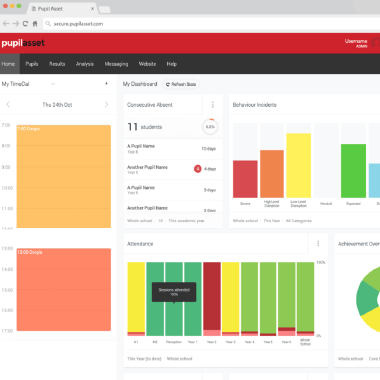 The Story of Pupil Asset
Founded by James Leeds and Michael and Deborah Cooke in 2010, Pupil Asset is a school management software that helps schools manage pupil data, assessments, and school communications. It includes an MIS for student records, attendance, and assessment tracking for progress monitoring. The platform enhances administrative processes and teaching practices, catering to each school's complex and different needs.
Main Features and Benefits of Pupil Asset
Student data management
Efficiently organise and manage pupil records, attendance, and demographic information in one centralised system.

Assessment tracking
Streamline assessment processes by tracking pupil progress, analysing learning outcomes, and informing targeted teaching strategies.

Communication hub
Facilitate seamless communication between schools, parents, and pupils, enhancing collaboration and engagement.

Administrative efficiency
Simplify administrative tasks, from attendance tracking to report generation, saving time, resources and money.

Bespoke solutions
Tailor Pupil Asset's modules to fit the unique needs of your school, ensuring a personalised approach to data management and assessment tracking.
Joining Juniper
On June 1st, 2020, Juniper Education announced the successful acquisition of Pupil Asset, an innovative Management Information System (MIS) provider that served 900 primary schools across the UK.

This acquisition marked a significant advancement for the education sector. It enabled primary schools to benefit from quality pupil assessment tracking tools, an innovative MIS, and results-oriented school support services, all offered by a single supplier.
Now part of Juniper Educations suite of Classroom Solutions for schools & MATs
Pupil Asset now forms part of our Juniper Horizons MIS solution, our cloud-based school Management Information System (MIS) that has been specifically designed to meet the needs of primary schools.

Our combined solution, experience and expertise have allowed us to provide the market with a first-rate pupil assessment tracking system with a comprehensive MIS, meaning teachers can spend more time with pupils rather than searching on systems for information.
Find out how we can support your
institution
Our solutions are designed to help all types of schools to gain complete control and visibility and work more efficiently.
Big-impact solutions without the workload
Raise standards and improve learning outcomes
Make evidence-based decisions with confidence