OTrack
Add assessment outcomes quickly, view data instantly and generate detailed reports. Now part of our primary Progress & Outcomes solution.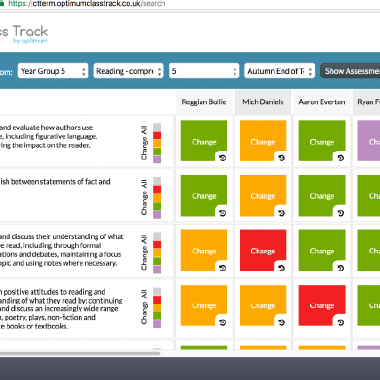 The Story of OTrack
OTrack was designed by leading education company Optimum Reports which was founded by Tom Parkinson and David Surfleet.

OTrack provides schools and educators with an advanced tool to effectively track and analyse pupil progress, promoting data-driven decision-making. With its robust features, OTrack empowers educational institutions to monitor pupil achievements and tailor teaching strategies, contributing to improved learning outcomes.
Main Features and Benefits of OTrack
Comprehensive progress tracking
Efficiently monitor and analyse student progress, enabling tailored teaching strategies and customised support solutions.

Bespoke assessment frameworks
Adapt assessment criteria to align with school-specific goals, ensuring relevance and accuracy in tracking pupil attainment.

Data-driven insights
Leverage data analytics to gain valuable insights into pupil performance, facilitating evidence of learning and fact-based decision-making.

Seamless reporting
Generate detailed reports on pupil progress and attainment, simplifying communication with stakeholders and aiding in school improvement.

Intervention support
Identify struggling pupils and implement targeted interventions for improved learning outcomes, promoting educational excellence.
Joining Juniper
OTrack, the pupil progress and attainment system, had been adopted by approximately 1,500 schools prior to its acquisition by Juniper Education in October 2019. Originally created by Optimum Reports, which was founded in 2005, OTrack is now an integral component of Juniper Education's Progress and Outcomes Solutions for primary schools.
Now part of Juniper Educations suite of Classroom Solutions for schools & MATs
OTrack's customisable approach, tracking and assessment modules and powerful reporting dashboard enable schools and trusts to collate, analyse, and track data with ease in a way that suits a school or trust's individual needs.

Tracking data is accessed across all subjects, and teachers can easily identify and plan focused and targeted interventions to meet the needs of pupils who may be at risk of falling behind.