MarvellousMe
A user-friendly parental engagement app that simplifies teacher-parent communication. Accessible as our Rewards & Recognition solution.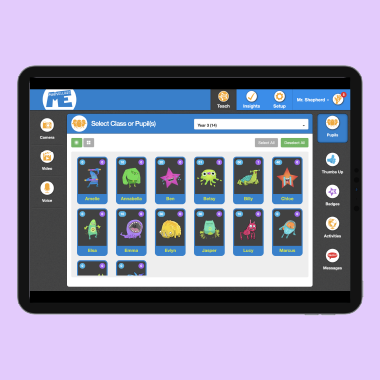 The Story of MarvellousMe
MarvellousMe, a positive, personal, and progress-led communication platform, was established to bridge the gap between teachers, parents, and pupils. The journey began when one disgruntled dad and founder, Adrian Burt, was sparked by a desire to improve how schools engage with families in 2013. MarvellousMe embarked on this mission by creating an innovative app that enables teachers to share pupils learning progress and accomplishments with parents effortlessly.
Fast forward to today, MarvellousMe has evolved into a cornerstone of modern education, used by countless schools to enhance parent-teacher interaction and provide pupils with a supportive learning ecosystem. With its roots firmly planted in simplifying communication, MarvellousMe continues to empower education by encouraging positive teacher-parent communications that help to supercharge parent engagement in schools.
Main Features and Benefits of MarvellousMe
Real-time pupil progress updates
Receive instant notifications about your child's achievements and progress, keeping you informed and engaged in their learning journey.

Positive teacher-parent communication
MarvellousMe makes it easy for teachers to tell parents the good news about their child's learning and achievements, all in a few simple clicks.

Positive reinforcement and motivation
Celebrate your child's successes with personalised badges and messages, boosting their confidence and encouraging continuous improvement.

An inclusive solution
Parents, carers, grandparents, and separated families can stay actively involved in a child's education via the free app available to download on any smart device. Receive notifications about events, pe kit reminders, homework updates, and more.

Big impact without the extra work
In as little as 3 minutes per week, teachers can involve all parents in what they are learning in the classroom. It's simple to use, and teachers are protected from unnecessary replies.
Joining Juniper
Becoming a part of Juniper Education in October 2022, MarvellousMe, boasting a customer base of over 700 schools, contributes to furnishing primary schools and trusts with an all-encompassing parental engagement solution. This strategic integration empowers Juniper to elevate further its commitment to delivering innovative and comprehensive solutions to schools.
Now part of Juniper Educations suite of Classroom Solutions for schools & MATs
MarvellousMe's integration into the Juniper Education portfolio has significantly bolstered reward and recognition programs for schools. This strategic alliance has introduced a new level of excellence by merging MarvellousMe's specialised expertise in parental engagement with Juniper's extensive educational solutions. By joining forces, MarvellousMe enhances parent engagement across the entire Juniper Education spectrum, providing schools with a more robust and effective reward and recognition solution.
Find out how we can support your
institution
Our solutions are designed to help all types of schools to gain complete control and visibility and work more efficiently.
Big-impact solutions without the workload
Raise standards and improve learning outcomes
Make evidence-based decisions with confidence