Horizon
MIS
The cloud-based school Management Information System (MIS) that's uniquely engineered to meet the needs of primary schools. Based on the Pupil Asset MIS, Horizons MIS is being redeveloped to form the core of the Juniper online platform.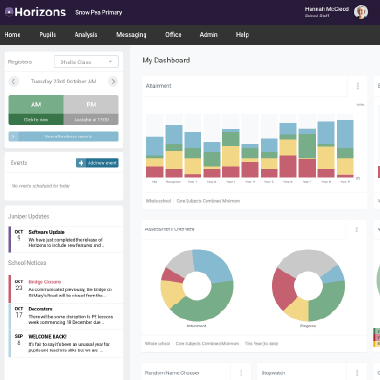 The Story of Horizons MIS
Juniper Horizons provides you with the tools to run and make sense of your school, with more usable, high-impact teacher features than any other solution.
Main Features and Benefits of Horizons MIS
Designed with the classroom in mind
A frontline design approach built for the classroom, back to the office…not the other way round.

An MIS tailored to your school's needs
A solution that works specifically for your school and caters to all your unique needs.

Whole-Child insights
Putting more real-time academic and pastoral impact tools at your teachers' fingertips.

Quick and easy to switch
Be future-ready in 7 days or less. Switching to Juniper Horizons MIS is simple and hassle-free.

User-friendly
Navigation is effortless, features are intuitive, and data is easy to interpret.
Now part of Juniper Educations suite of School Office Solutions for schools & MATs
    
Horizons MIS has seamlessly integrated into our School Office Solutions, laying the groundwork for our innovative Juniper MIS offering. Designed exclusively for primary schools, Juniper Horizons MIS is a cloud-based Management Information System (MIS) that keeps you one step ahead. Its intuitive interface anticipates your next move, ensuring simplicity at every turn. Experience swift access to answers and valuable insights, empowering your team to navigate their day effortlessly. Say goodbye to compromise – Juniper Horizons MIS is tailored to meet the unique requirements of primary schools, delivering a solution that's purpose-built, not merely adapted.