e4education
School and MAT website design & hosting, including marketing and branding services. Now part of our Communication Solutions.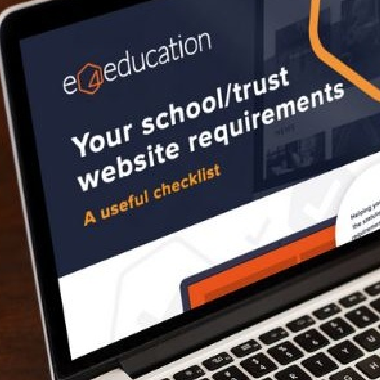 The Story of e4education
e4education embarked on its journey in 2001 under the guidance of founder John Roach. Witnessing schools' distinct needs during his early website endeavours, Roach and his dedicated team embarked on developing a tailor-made Content Management System for the education sector.
As their Content Management System evolved, so did their customer base and team size. In April 2021, e4education celebrated two decades of operation, with a workforce of over 40 and a customer roster exceeding 2,500. e4education helps to drive school and academy success, uniting innovative design, imaginative thinking, and smart technology. Their solutions simplify operations, elevate reputations, and enhance community engagement. Focused solely on the education sector, e4education, who are now part of Juniper Education, constantly refines its offerings through invaluable customer feedback and industry insights.
Main Features and Benefits of e4education:
Comprehensive web solutions
School and MAT website designs, hosting, marketing, and branding services in one cohesive package.
Integrated communication
Seamlessly connecting schools and trusts with their audience through dynamic online platforms.
Innovative design
Creating visually appealing and user-friendly websites that engage and inform visitors effectively.
Unrivalled expertise
Extensive expertise and years of experience in crafting websites specifically designed for educational institutions.
Expanded services
As part of Juniper Education, customers now gain access to an extended range of services and support.
Joining Juniper
In November 2021, Juniper Education acquired e4education, enhancing its comprehensive suite of communication solutions for schools and trusts. The seamless integration of e4education's offerings complements Juniper Educations' portfolio, providing customers with an expanded and enhanced service experience online.
Now part of Juniper Educations suite of Communication Solutions for schools & MATs
e4education has seamlessly integrated into Juniper Education's market-leading website solutions, combining our expertise, customer base, and decades of experience in creating exceptional websites for schools and MATs. This synergy solidifies our position as innovators in education-focused website design and allows us to offer a broader website offering across the sector.
Find out how we can support your
school
Our solutions are designed to help all types of schools to gain complete control and visibility and work more efficiently.
Big-impact solutions without the workload
Raise standards and improve learning outcomes
Make evidence-based decisions with confidence