Classroom
Monitor
Measure & demonstrate pupil progress your way with curriculum mark books, point-in-time teacher judgements and external test data, in any combination. Now part of our primary Progress & Outcomes solution.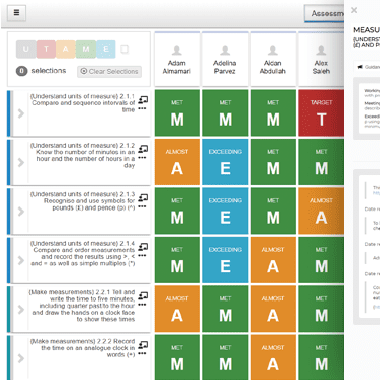 The Story of Classroom Monitor
Classroom Monitor is a pupil progress tracking tool created for schools by Prime Principle Ltd.
With a legacy spanning 15 years and widespread adoption in more than 2,000 schools across 41 countries at the point of acquisition in January 2020, Classroom Monitor is the trusted choice of 53,000 educators. Its impact extends globally, with over 170 international schools benefiting from its assessment solutions.
Main Features and Benefits of Classroom Monitor
Customised assessments
Create tailored assessments to match specific curriculum requirements, enabling educators to evaluate pupil progress effectively.
Comprehensive data tracking
Efficiently monitor pupil performance and growth over time, allowing teachers to make informed decisions based on data.
Insightful analytics
Generate detailed reports that provide insights into individual and group achievements, aiding in targeted teaching strategies.
Formative assessment support
Facilitate ongoing formative assessments to identify learning gaps, adapt instruction, and enhance pupil outcomes.
Enhanced communication
Promote collaboration by sharing assessment outcomes with pupils, parents, and staff, promoting a well-informed educational community.
Joining Juniper
Juniper Education added Prime Principle Ltd, the developers of Classroom Monitor, to the Juniper family in January 2020.
The expanded Juniper Education's portfolio of innovative software and services for monitoring pupil progress and increased the number of schools using its assessment tracking solutions to over 7,000.
Now part of Juniper Educations suite of Classroom Solutions for schools & MATs
The team at Prime Principle had a wealth of experience in the sector, and the acquisition supported us in our aim to continue developing software and services that saved time for teachers, providing them with the information they needed to ensure their pupils achieved all they were truly capable of. Classroom Monitor now forms part of our Progress and Outcomes solution and has become integrated into our market-leading portfolio of progress, evidence of learning and tracking solutions for schools.
Chris Scarth, the founder of Prime Principle Ltd, joined the board of directors at Juniper Education in 2020, and fast-forward to today is now our company's CEO.
Find out how we can support your
institution
Our solutions are designed to help all types of schools to gain complete control and visibility and work more efficiently.
Big-impact solutions without the workload
Raise standards and improve learning outcomes
Make evidence-based decisions with confidence