Primarysite
School & MAT website design & hosting, including marketing and branding services. Now part of our Communication Solutions.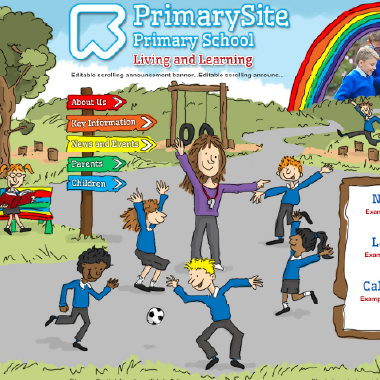 The Story of Primarysite
Established in 2005 by Geoff Millington, Primarysite emerged as a prominent figure within the realm of educational website design and digital solutions. Focused on serving primary schools, the company swiftly gained recognition for its dedication to creating interactive, user-friendly websites customised to schools' requirements. Over time, both the company and its service portfolio have earned a reputation for excellence in meeting the specific needs of schools.
Main Features and Benefits of Primarysite
Websites that engage and inspire
Creating school websites and branding that reflect your identity and values to help put your school in the spotlight online.

Saving you time
A CMS designed to be easy to use and help to reduce admin time for schools. From making quick updates to sending emails to parents, the Primarysite platform does it all.

Delivering great value
A range of website options to suit any budget. A range of support packages and fixed-price contracts also offer schools great value for money.

Expert support
To help you get the most from your investment now and in the future, the team provides you with unlimited training, expert guidance and technical support from our experts.

Better parent engagement
Improve your school's parental engagement with powerful communications tools. Enhance your school website with mobile apps, a video resource centre and a parents' evening booking form.
Joining Juniper
In May 2021, Juniper Education bought Primarysite onboard, which provides nearly 5,000 primary schools, academies and trusts with subscription-based educational websites and comprehensive parent communication solutions. This strategic decision allowed Juniper to capitalise on this recognised need, offering schools and trusts a comprehensive solution for enhancing their communication with parents and the whole school community online.
Now part of Juniper Educations suite of Classroom Solutions for schools & MATs
Juniper Education has seamlessly integrated the expertise and customer base of Primarysite with our own diverse website product portfolio, resulting in the development of Communication Solutions for schools. These solutions empower schools to establish a prominent online presence, promote improved engagement with their entire community, and enhance overall communication strategies, allowing schools to truly shine and thrive in the digital age.